Whoa, looks like the price of fish is really going up.
$1,763,000 / 489-lbs. = $3,605 per pound (Breaking last year's 2012 Record)
Japan consumes 80% of the world's catch of bluefin tuna.
http://www.grindtv.com/outdoor/blog...for+record+176+million+in+japan+sushi+anyone/
Bluefin tuna sells for record $1.76 million in Japan; sushi anyone?
Saturday, January 5, 2013
Bluefin Tuna Auctioned For Record $1.7 Million
Jan 5, 2013
AND
http://www.foxnews.com/world/2013/0...76-million-at-tokyo-auction-3-times-previous/
Bluefin tuna sells for record $1.76 million at Tokyo auction, 3 times previous record
Published January 04, 2013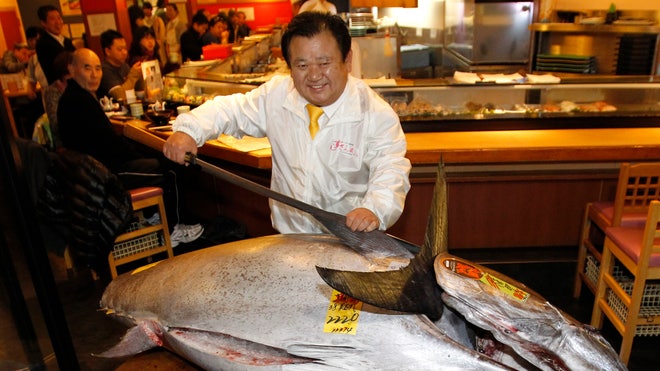 "Winning bidder Kiyoshi Kimura, president of Kiyomura Co., poses with a bluefin tuna in front of his Sushi Zanmai restaurant near Tsukiji fish market in Tokyo Saturday, Jan. 5, 2013. The bluefin tuna caught off northeastern Japan fetched a record 155.40 million yen, or about $1,763,000, in the first auction of the year at the fish market. The tuna was caught off Oma in Aomori prefecture."
AND
http://abclocal.go.com/kgo/story?section=news/bizarre&id=8943758
OR
http://abclocal.go.com/wls/story?section=news/national_world&id=8943661
Bluefin tuna sells for record $1.76M in Tokyo
Saturday, January 05, 2013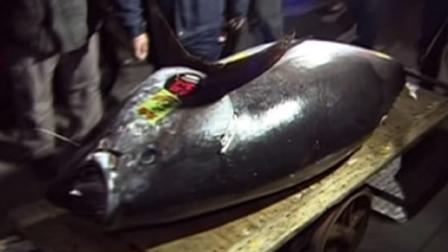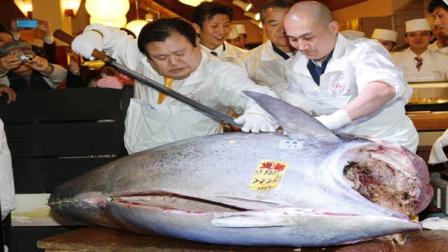 AND
http://www.fieldandstream.com/blogs/field-notes/2013/01/bluefin-tuna-sold-japan-record-176-million
Bluefin Tuna Sells for Record $1.7M in Japan
January 08, 2013
Last edited: