well I am a believer after today. although I am not and have never claimed to be a great shot, this stuff is GREAT and is clean.
this is my original setup. I shot fine with it, but never had much consistency.
encore 50 cal
leupold vxiii 3.5x10x50
150 grains 777 (three pellets)
250 TC shockwave
winchester 209 primers
today I shot the same gun and scope and...
100-110 grains by volume of BH 209
250 grain TC shockwave
winchester 209 primers
shooting on bench with decent rest and 84 degrees
my first shot was at 25 yards with 100 gr powder to make sure I was at least still on paper after changing the powder and weights. I was dead center and about 3/4" high.
I then moved to 100 yards and shot my first 3 group and all three touched each other at about 3.50" high and 2" left. I didnt make any adjustments from here because I knew I was going to be playing with the powder volumes. but to say the least I was immediately pleased with the group. I would probably lower it a half inch and move the group to the right to be dead center. 3" high at 100 should put me about 4" low at 200.
ONLY look at the group. the others were experimenting with different powders...all the way down to 60 grains volume for Lela to shoot and a couple of flyers.
first group 100 yards 100 grs bh209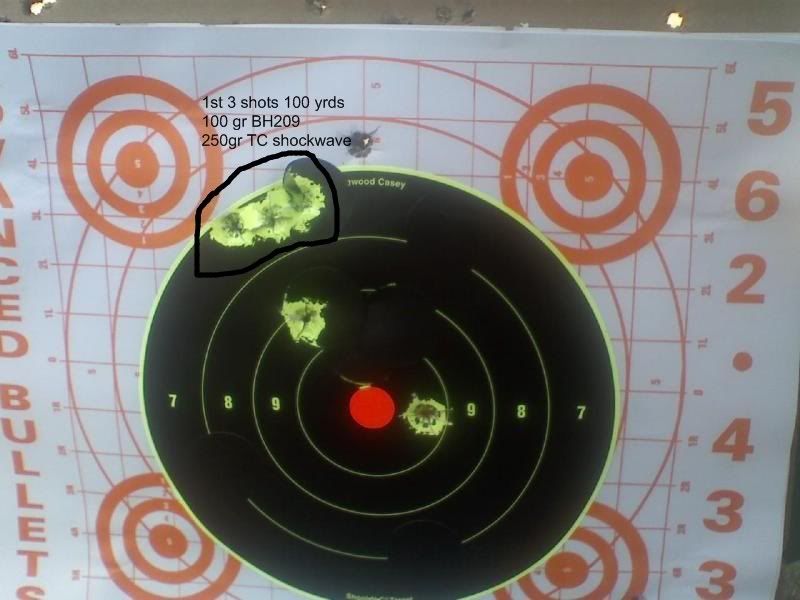 then I changed to 110 grains and although still good for a ML at 100 yards you can see that the group opened up considerably. only thing changed was the volume of powder. ONLY look at the top left group.
100 yards 110 grains bh209
ZERO swabbing between shots and ZERO issues getting the bullet in the barrel. ZERO misfires. to clean (if I do today) I will run a bore cleaner and clean it like a rifle.