Alright everyone let me see if I can get some info out there. I've got all of the results back and had everything ready to go but one of the feed companies had recently started making a 20% protein feed and I got a bag from their first run that I got my sample from, the numbers from their test and mine showed the protein a little shy of what was advertised so they changed their formulation slightly and did another run of feed and just got that test result yesterday so that threw a little wrench into what I had setup to post up and email.
First off let me say that with the exception of the new feed I was very impressed by how pretty much everyone's results came back at least as good as their tag numbers and most were better, so much for me being a doubter!
With that being said I'm sure everyone wants to know what is the "best" feed. There are several that are very close in my opinion and everyone has to make their own choice, in my situation I want a good feed but it also has to be convenient for me to pick up a pallet every week and of course price plays a role too! I won't tell you what I think is the best feed because everyone has their own set of circumstances that makes their best but I hope with the information that I am going to give you that you can make an informed decision.
First I will tell you what I look for in a feed if price and convenience are all the same. There are a whole lot smarter people on this forum than I am so take this for what it's worth...pretty much nothing! I want a feed that is:
Protein - 20% or more
Crude Fiber - less is better in wild deer, they get the fiber they need thru their browse and in feed it's just a money saving filler for the feed company
TDN (Total Digestable Nutrition) - higher is better
Fat - at least 2-3% but more is good up to a point but I don't know what that point is
Phosphorus - around 1%
Calcium - 1.5-2%
Calcium : Phosphorus - Ratio - 1.5:1 - 2:1
I had a few people helping me research what makes a good supplemental feed and here are some links. Hopefully some of our resident experts will offer up some opinions and links to some different studies also.
http://www.northamericanwhitetail.com/2010/09/22/deermanagement_wt_understanding_0109/
http://www.northamericanwhitetail.com/2010/09/22/deermanagement_naw_understand_0209/
http://www.northamericanwhitetail.c...-look-at-supplemental-feeding-for-whitetails/
This one specifically explains antler growth, but through it you can see how all of the various nutrients result in bigger antlers (or, conversely, healthier fawns).
[
http://www.northamericanwhitetail.c...ment_nawthe_world_of_whitetail_antlersii0910/
http://www.deerfarmer.org/index.php...uirements-for-deer-and-elk&catid=29:nutrition
The powers of the forum here have asked me not to post any company names here on the open forum so here is the breakdown minus names. If you send me a pm with your name and email addy I will email you the same chart with company names and also a copy of all of the tests as well as a copy of the bag tag from each sample. If anyone finds an error in the numbers please let me know.
Thanks and sorry for the delay, happy reading!!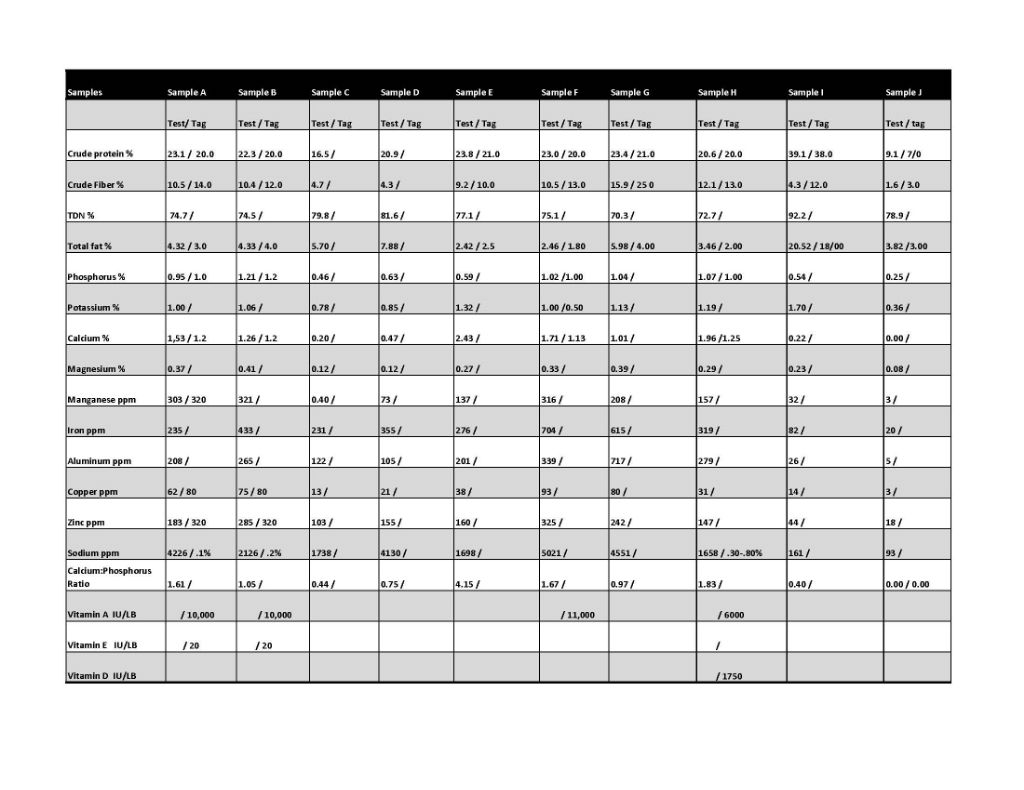 Last edited: