My wife and i just returned from a very good trip with El Halcon outfitters in Chihuahua, Mexico. The trip was amazing and the outfit is first class all the way.
Day 1
3:00 wake up. After a nice breakfast we were all headed to our destinations in the mountains to chase our first goulds turkey. We began huntung properties furthest from the lodge and worked our way closer daily.
Driving through the undeveloped mountains was pretty rough. Roads are nothing more than rock pathways with a very rugged texture. Two hours into the excursion, the winding and bouncing got to us..all of us but Manuel..some sick individuals we were.
Light headed and dizzy, i started my trek with my guide Fernando a sniff after daylight as the turkeys were doing their thing. Manuel was taking amanda another hour up the mountain in the meantime..
First we have to say that these turkeys roost low in the canyons and come up the mountains. We are above them and trying to get to one to work him, but we didnt get on much at daylight. After playing with some distant gobblers, we decided to get up and start a long trek down the mountain to the road we started on and then right back up to another side of the mountain. As we got to the top we hear a gobble and it sounded close. I immediately threw everything down an scooted up under the scrub pine and cedar that littered the desert like grounds. I was visioning the gobbler being in the canyon and working up the drain in front of me about 10 yards. Fernando called the bird and he gobbled and gobbled, getting closer. Once he got to where i figured him to be about 15 yards, i settled the bead on the end of the drain that lead into the canyon. Minutes went by and nothing. I never could see him but he continued to gobble. I held the gun as long as i could in the uncomfortable position i was in so i relaxed and peered over the barrel and saw him on the ridge across from us. The gobbles carry very well in the thin air and confused my hearing. I watched him strut and gobble all the way to 30 yards where i couldnt take it anymore and had my first goulds and a complete royal slam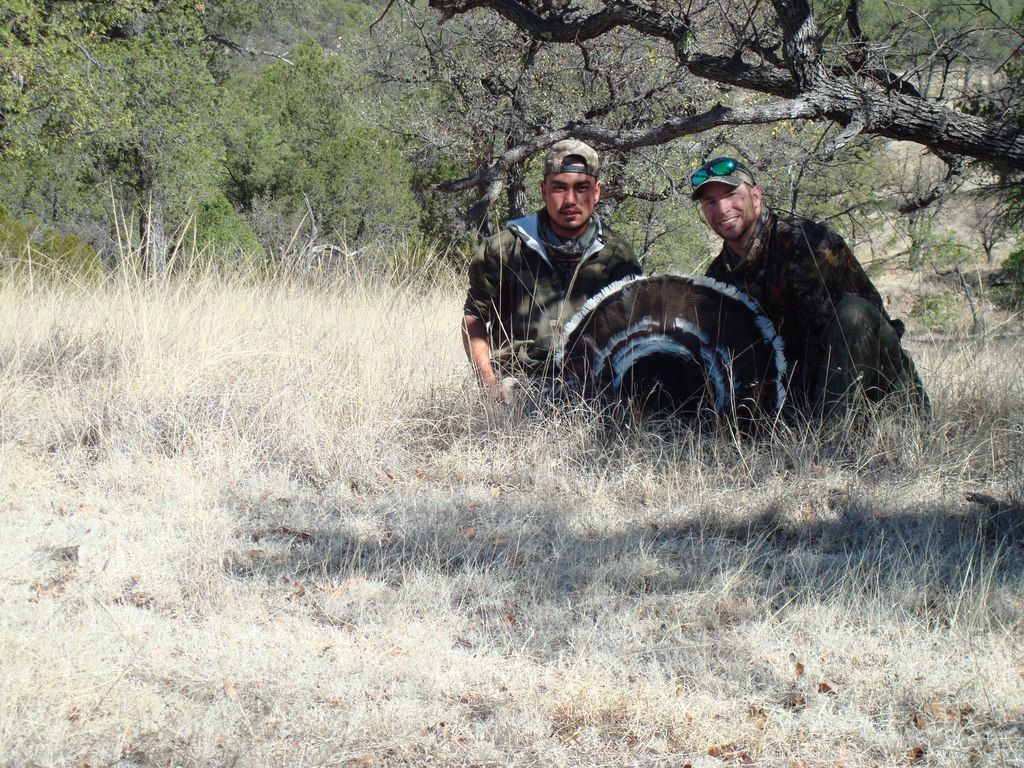 Amanda and Manuel didnt get on much that morning and picked us up about 11. Everyone got shots that day, except for her. 5 birds killed on day 1. Too windy to hunt after lunch
Day 2
Not much happened on day 2. It was cool and the wind was terrible. We didnt get on any that day. I think 2 more were killed on day 2
Day 3
Day 3 started early as usual with us headed to a new property. We got there and heard some birds on the roost and set up to work them. After fly down we had one coming good. He ended up going behind us and under a fence about 20 yards behind us. He was looking at the decoys contemplating whether or not to come investigate, another turkey gobbled not far behind him. He immediately tucked tail and walked off crunching with every step in the dry grass.
The second gobbler did the same as the first. He came in and went under the fence to go behind us. Manuel coaxed him back underneath the fence and towards the decoys. I was trying to get Amanda to shoot as he passed to our left, but long story short, she said she never felt comfortable with the shot and he was moving. He didnt really like the jake decoy he had out and also left.
That evening found us a little further down the road on a bid timer filled mountain hunting a water hole. This was the first big timber we had seen. Filled with longleaf pine, oaks, various other trees and rock ledges, it was beautiful. We made a long hike up the mountain to reach the top at around 8000 feet and set up along a fence line of what looked like a mountain top pasture. Manuel said the like to travel that side of the ridge back and forth to go down to the water and to roost. 45 minutes in we get a gobble..directly behind us and exactly where we came from. With absolutely no time to turn around, all we could do was watch them through the corners of our eyes. They were working from our right to left at about 15 yards. As the got out of my sight, i made a risky move and turned around to see them and try and help get amanda on on and to pick a shooting lane that didnt have manuel and fernando in it. When i turned around i was blown away at how many gobblers were there. I know i counted 8 and could have been 10. They began to work away from us after not seeing a hen, but one decided to break away from the crowd and turned in towards us. Amanda got off of her seat and onto her knees and made a good shot on him. A huge weight was immediately lifted off of me(us). The celebration began and another royal slam was completed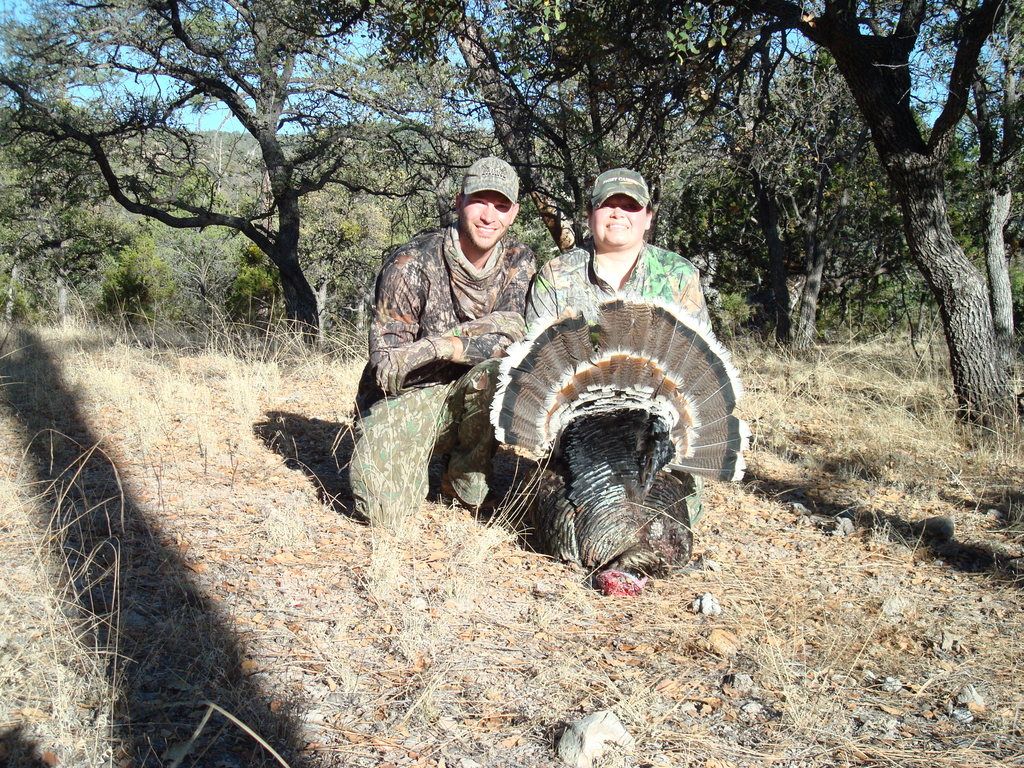 Day 4
Day 4 was a rest day for us since we had filled out tags. I had an option for another tag that i really wanted to try and use or let amanda go back for redemption on one of the 2 we called in early on day 3, but i gave it up to another hunter in camp and he gladly took it and made well with it.
We had a big cookout for lunch that day.
This pretty much concludes the trip at the lodge. Travel there and back was an adventure in itself with the airlines, but that is to be expected.
Goulds turkeys look huge with wide fans, tall posture, huge legs and toes, but they are surprisingly light. The heaviest gobbler taken on this trip was 18.2# and the lightest was 13.6. All mature gobblers. Roaming the undeveloped mountain range wears them down chasing hens i guess. Beards ranged from 8"to 11.25".
My gobbler was 16.8#, 10.75"beard and 3/4"spurs
Amandas gobbler was 18.1#, 8"beard and 1/2 and 1/4"spurs.
The weather was great. Upper 30s in the morning and warming up to high 70s / los 80s during the day. The wind was pretty bad most days around 25-35. Manuel said that 80 was about as hot as it gets. It would be great to have those temps here. June will begin the wet season and cool evenings afterwards
A very exciting hunt with a great overall experience with 6 other hunters. Manuel runs a great operation and has a great reputation and i now see why. Food was tremendous and plenty. 3 course meals at every meal. Mid morning snacks were packed as well as lunches. I dont think i ever at my lunch as i was too full from everything else. One this is for sure, you will not go hungry out there.
For anyone on the fence of going on a goulds hunt, GO. You will be safe, have a great hunt and see some beautiful countryside in a part of the world where you can appreciate the little things that you may take for granted
Last edited: