Looking forward to Braves improving run production after delivering only 3-runs in 3-games so far this season.
Appears Atlanta is getting more serious about having a backup SS or 3B after acquiring one today.
https://www.mlb.com/braves/news/orlando-arcia-traded-to-braves-by-brewers
Braves acquire Arcia from Crew for 2 RHPs
21 minutes ago
After moving to third base this spring,
Orlando Arcia
is moving to Atlanta
Brewers on Tuesday traded their longtime shortstop to the Braves for right-handers Chad Sobotka and Patrick Weigel
He is earning $2 million this season, and he has one more year of club control before reaching free agency in the 2022-23 offseason
In addition to shortstop and third base, Arcia also has a bit of experience in the outfield, and he's the sort of athlete who could play anywhere for Atlanta
https://www.espn.com/mlb/story/_/id...ndo-arcia-trade-milwaukee-brewers-source-says
Atlanta Braves acquire Orlando Arcia in trade with Milwaukee Brewers
1:17 PM ET
Arcia, 26, has spent all six of his major league seasons with Milwaukee. He had one hit in 11 at-bats this season, and he had a .260 batting average in 2020 with 5 home runs and 20 RBI.
He has mostly played as a shortstop but has also seen time at third base and in the outfield
He had signed a one-year, $2 million deal with the Brewers in December
Braves twitter:
Atlanta Braves
@Braves
1:45 PM · April 6, 2021
The Atlanta #Braves today acquired INF Orlando Arcia from the Milwaukee Brewers in exchange for RHP Chad Sobotka and RHP Patrick Weigel.
2:12 PM · April 6, 2021
The #Braves optioned INF Orlando Arcia to the club's alternate training site.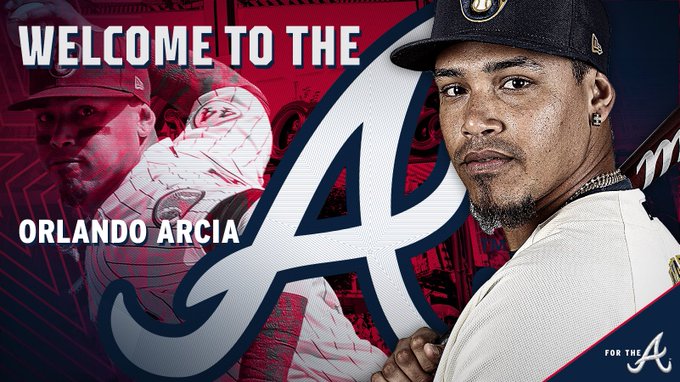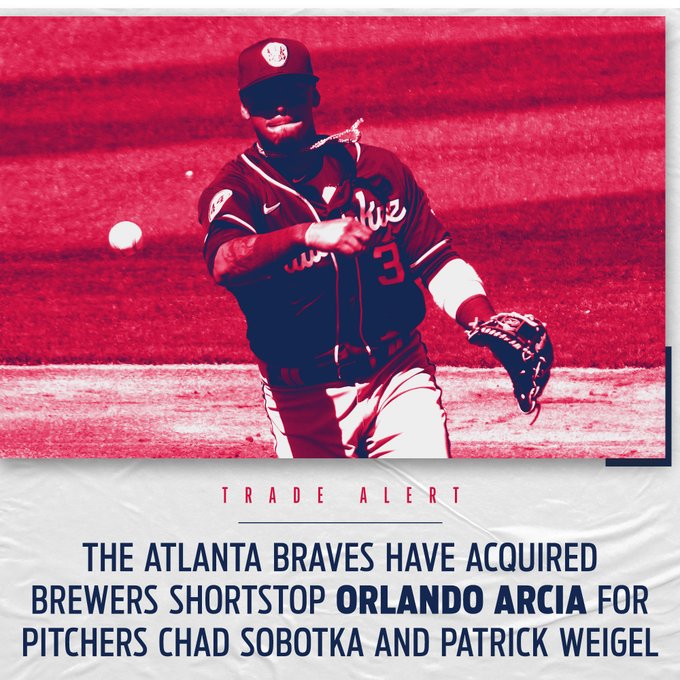 11:55 AM · April 6, 2021
Here's how the #Braves will line up today in DC.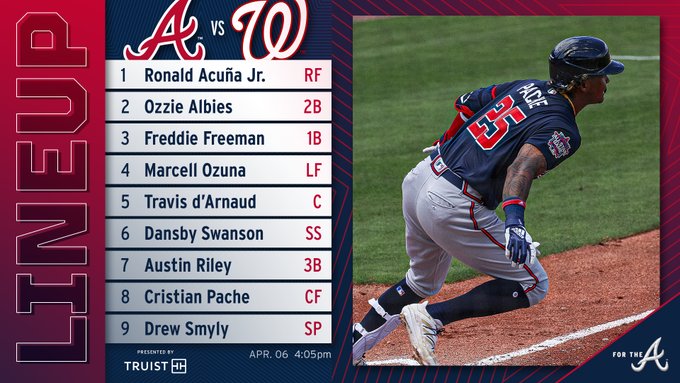 EDIT UPDATE below:
Braves 1st batter today, Acuna hits leadoff 416-ft. HR on 1st pitch of the game! (his 20th leadoff HR)
Nice start for run production off of Nats' Scherzer.
12-seconds
3rd batter today, Freeman hits 423-ft. HR!
Not bad Atlanta piling on run production in 1st-inning.
2nd-inning, 1st-batter Swanson hits 412-ft. HR!
Braves match first 3-games run production in today's first 6-batters with 3-HomeRuns to lead game 3-0.
3rd-inning, 1st-batter Acuna hits 397-ft. HR, going 2-for-2 with 2-HR's today!
Braves now with 4-hits, 4-HR's, 4-runs, leading 4-2.
Nats 2-runs are UnEarned off Albies fielding Error in 2nd-inning.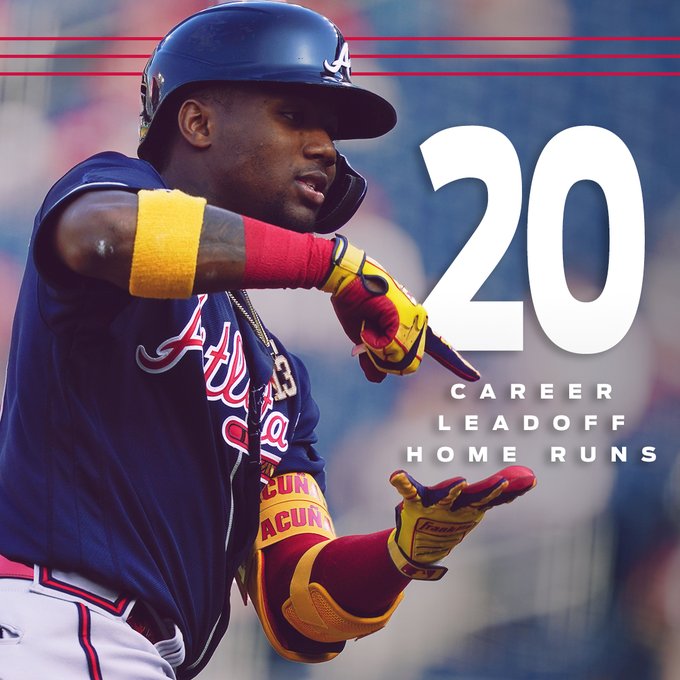 Last edited: