We have been planning this vacation for months so last Sunday we loaded everything we own (it seemed like that to me) in the truck and my wife, daughter and I headed for deer camp. My son followed us down on Monday. Last Tuesday was his birthday and we all wanted to be together in the woods.
Monday morning my daughter and I headed into the woods at first light. Last year was her first year deer hunting but she didn't get the opportunity to close the deal on her first. Just as we get to the food plot we were going to hunt we got busted by two does. We hunted the morning hunt but didn't see anything else, but at least we got to see deer.
Monday evening we were back at the same spot with the same results, busted by the same two does. That's where the bad luck ended and the magic began and brother it was pure magic. About 5:00 pm a buttonhead comes out at the bottom of the foodplot and we sit and watch him graze. A few minutes later a handsome spike comes out in the plot to our left and begins to graze. Ten minutes later a 6 pointer comes out on our right and he starts to graze.
The buttonhead works his way up the plot towards us and the spike starts moving in his direction. Meanwhile, the 6 pointer is watching all of this while he browses. The spike gets froggy and chases the buttonhead out of the middle of the plot and up towards us. The 6 pointer is watching and I can tell he is thinking "What does that guy think he is doing picking on a small fry like that?" He lowers his head and goes back to browsing but he starts moving towards the spike. I knew what was coming next.
The spike senses the challenge, stands his ground waiting for the 6 pointer to get there and when he does the spike starts sniffing around the 6 pointer's backside. The 6 pointer wheels around and the tussle begins. Finally the 6 pointer drops the bulldozer blade and starts backing the spike up until he has had enough and leaves.
Since Troup Co. is 4 points or better none of the deer were legal but my daughter got to watch her first fist fight with a ringside seat. She was definitely stoked.
Tuesday morning was my son's birthday and it dawned cool and clear but windy. He decided to hunt behind camp which was a zero prospects hunt because I have gotten 2 pictures of deer all year long back there. Meanwhile my daughter and I were back on the same foodplot. 10:00 came and we decided nothing was happening so time to head back to camp for some breakfast and a snooze. As soon as we were on the ground we both got a text from my son saying he had one on the ground. We beat a hasty retreat back to camp and out to the foodplot and he was there with a nice 8 pointer on the ground and his proud mom was snapping pictures. It came out of nowhere, worked it's way down the foodplot and when he finally had a shot he took care of bidness.
This makes 5 years in a row he has killed a deer on his birthday or his birthday weekend. 11/5 is his lucky day.
That evening I decided to hang in camp with my wife since my daughter wanted to hunt with her brother. Since he had the hot hand it made sense. They hit the woods about 3:30 pm and my wife and I enjoyed a lazy fall afternoon together while we rode over to RB's taxidermy in Manchester to get a Euro mount started for my son.
The end of legal hunting time came and went and we hadn't heard a peep out of the two hunters. Finally about 6:45 we both get a text from my son Matt - "Amanda's deer".
Another 8 pointer on the ground. This one did the same thing. It came out of nowhere off to their right just before last light. Matt put his binocs on it, saw it was legal, looked across at his sister and whispered "that's your deer". From there on in she took care of business like a seasoned deer hunter. She got the crosshairs on him, lined up the shot and waited until she knew she had a kill shot and squeezed off the shot like she had been taught. She described the whole thing to me and I told her "You were in the zone, weren't you Sugar Bear?" She knew immediately what I was talking about. Now she knows what it means because she experienced it.
They got back to camp and the celebration was on. We enjoyed a relaxing evening and a family dinner together in the newly renovated cabin I spent all Summer and all of archery season working on dreaming about this day.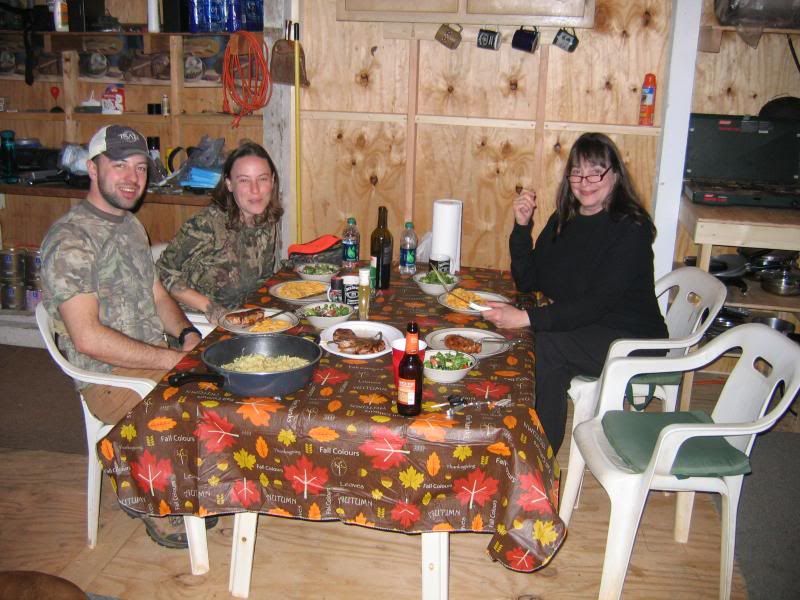 The next day was skinning, quartering and butchering. Amanda's is no slacker and she is in it to win it, including the work after the shot. It didn't take much instruction because she is a natural.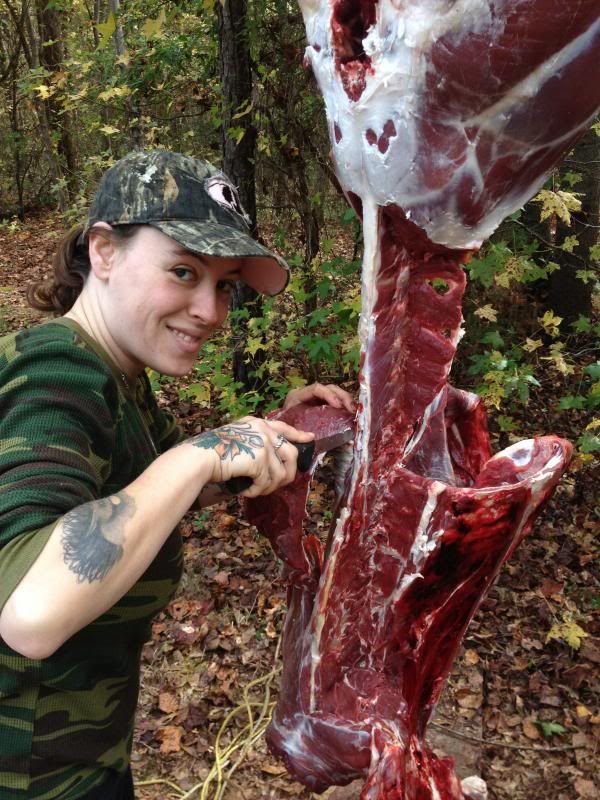 I've done a lot of hunting and fishing over the years and have tons of special memories just like everybody else but this trip takes the cake. The weather was stunningly perfect, the woods were ablaze with Fall colors, the deer were moving, my son got an 8 pointer on his birthday and my daughter got her first deer the same day and we had a relaxing time in the woods and shared the closeness of family all together. It was idyllic magic from start to finish. I don't know how I could ask the Good Lord for more but I am looking forward to the next time we are all together in the woods again. They say if you "talk the magic" you lose it. I'm thinking I can beat the odds on that as long as I'm with my family in the West GA woods.