It has been brought to my attention that layer masks are not available in PS Elements. Sorry. I had no idea. I'll edit the original post to note this for future readers. Again, I'm sorry. I don't have Elements so I had no way of trying to see if that capability was available. I just assumed it was...
Since it seems there are a number of people here with Photoshop that have never used Layer Masks I thought I would do a quick and dirty primer tutorial on the basics. This is by no means a comprehensive study on the subject. It's just a quick demonstration to show how simple using Layer Masks really is.
Anyway, I used a shot of Baby Girl from the Safari Park in Pine Mountain for this tutorial. I done a simple "selective color" B&W conversion to illustrate how layer masks work. I think once some of you see how simple it really is, you'll really be glad to have it in your bag of tricks.
Here's the before version of the example pic...
First of all I simply opened the photo I wanted to work on in PS and created a new layer via copy. (Click Layer > New > Layer via copy... ) I'm including screen shots showing the layers box to the right to show what you'll see each step.
Since I was makin' a B&W conversion with selective coloring, for the purposes of this tutorial I simply clicked on the layer via copy, clicked Image > Adjustments > Hue/Saturation and set the saturation level to -100 to totally desaturate the copy layer. Here's a screen grab of what the photo and the layers box looked like at that point. The background, which is still in color, is totally hidden by the copy layer that I just desaturated.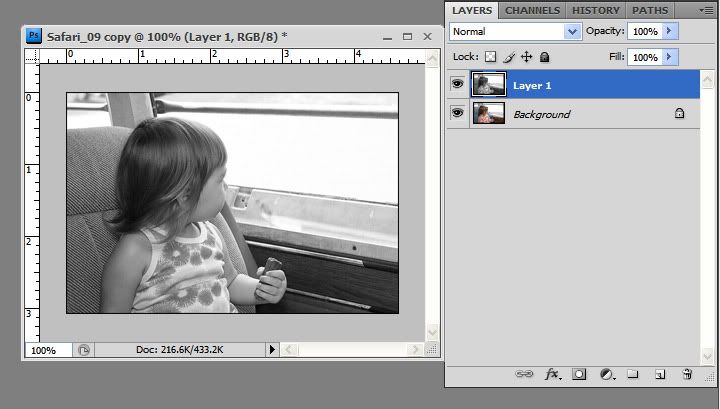 Here's where the Layer Mask comes in. To add a layer mask to a layer you simply click on that layer in the layer box to select it (selected layer will be highlighted as seen in this, and the previous screen grab) and click the little icon at the bottom of the layers box that I have outlined in yellow. You will then have a layer mask. You can see that there has been a box added to the selected layer. That is your mask.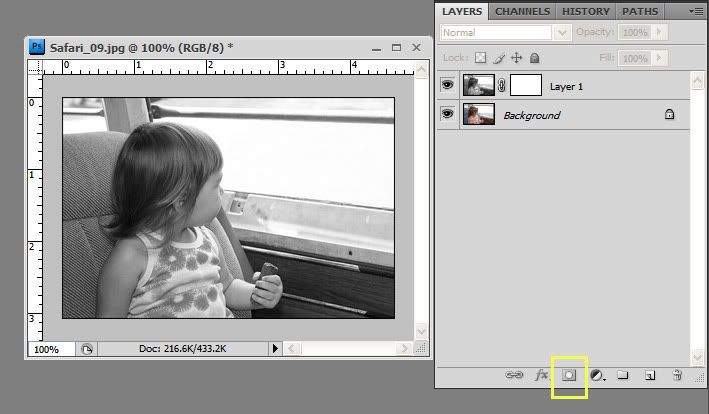 And here's the simplicity of Layer Masks at it's best. You simply choose the paint brush tool, select black as your color and paint where you want the background layer to show through. For this photo I wanted 100% of the color background to show through on baby girl and her clothes. I simply chose a small brush and painted her in with it, painting where ever I wanted to reveal the color background. It truly is that simple! If you accidentally paint "outside the lines" and get a little color somewhere you don't want it, it's as simple as going to the history tab and deleting that step with the brush, or you can simply choose white as your paint color with the brush and carefully paint back out what you don't want to show. In this case my brush was a little large and I got some background color around her arms and hand that I didn't want. I simply chose a smaller brush, set the color to white, and painted the unwanted background back out.
Notice that the little mask box that popped up when you created the mask shows you where you've painted and where you haven't. On this photo it would have been obvious because everywhere I painted shows color and everything still masked does not. However, if you were combining two shots and using various parts of two skies and both were in color (or B&W), the little box would make it obvious where you had painted and blended and where you hadn't at a glance.
Note: In this photo, what I wanted to show through was a smaller part of the image than what I didn't want to show through. If it were the other way around you can totally fill the layer mask with black and choose white as your paint color to paint out what you don't want to show through.
When you're done, either save as a PSD file to retain your layers (if you plan to return and maybe modify it further later) or simply flatten the image (Click Layer > Flatten Image) and save as you would with any other photo for it's intended purpose. In this case I flattened the image and saved it as a JPEG at 80% quality as I normally do for web use. Here's the flattened image...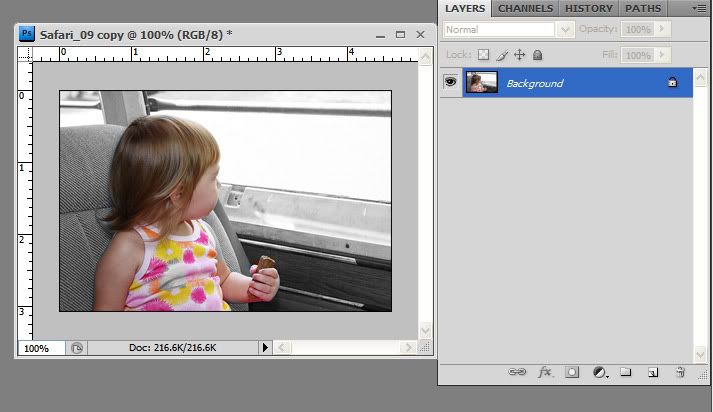 And the before and after images side by side for comparison... Not perfect as I didn't try to get down to pixel level around the edges. I was just illustrating the technique. You can see "mistakes" around her hair on the seat, and around her arm/hand if you look close. If it were a "for real" photo I'd select very small brushes and zoom way in to really refine the edges and make sure nothing was missed. You can go as fine in detail as a 1 pixel brush and literally paint each edge pixel one at a time if that sort of accuracy is necessary.

Again, this is a very basic primer. In the masking stage you can vary the opacity and flow of the brush to get extremely subtle blends. You can also set opacity and flow to 100% and use different shades of grey for paint color to get varying blends. The darker the paint color the more of the background you'll see where you paint. You can use shades of grey combined with lowered opacity and really get some fine gradations in your blends.
The usefulness of this technique is limitless. If you have a photo with mixed lighting you can create two layers, adjust one layer for, say, skin tones, and the other for the ambient lighting in a room and combine the two layers using a layer mask for a seamless blending of the two with both being "correct". Heck, anything you can adjust in a photo in photoshop, you can apply to a single item in the frame, or multiple items in the frame without affecting the whole entire image. As I said, the possibilities are endless.
If you try this and run into problems or have any questions, please feel free to PM me for help. I'm no guru or anything, but I'm willin' to share what I do know.
Also, please post here after you try this technique and let me know what you think about it. Be sure and post your photos that you play with using layer masks here, even if they aren't perfect. This is all about learning something new!
In my opinion Layer Masking happens to be one of the top three most powerful, and most useful tools in Photoshop, with Curves and Smart Sharpen bein' the other two. It would be interesting to hear what others who haven't tried it think about it when they see how incredibly simple it really is. It truly is a matter of painting in or out what you want or don't want.
Chris
Last edited: